"This is a 'show me' night and they're showing each other." ~ Jack Edwards
There was absolutely no question about that First Star award. Shawn Thornton led this team to victory. Mark Recchi said this was a must win game for the fragile Bruins and Thornton apparently took those words to heart.
Two seconds into the game, Thornton dropped the gloves with Eric Boulton and had a long, spirited bout. We don't think it was a coincidence that Thornton fought Boulton right on the B's logo at center ice.
That was a message that, at least in this game, the Bruins would not be pushed around. The Bruins needed to be angry and Thornton knew exactly what he was doing. And on this night, his team responded.
Shawn "Wayne" Thornton might not have a letter on the front of his jersey but anyone who doesn't think he is a leader must be inbred. Or live in the south. A fight. Two goals. Almost four. He had one puck dance near the goal line and hit a post near the end of the game. We'll see if the Bruins carry this momentum into the next game but for one night Thornton's troops followed him into battle and the Bruins showed the type of team they can be if they are engaged.
After the jump, Shawn Thornton dominates you, cheap shots on both sides and a first line brawl…….
"Maybe that will shut you guys up for a little bit." – Shawn Thornton, on the media's (and fans we assume) criticism of the team
We're not the type of guys to toot our own horn, but… wait… yes we are.
If you didn't see it, a few days ago we wrote a post about how the Bruins needed a game like that Dallas Starts game in October a couple years back. The Stars screwed with the Bruins enough to push them over the edge and the out pouring of emotion from the Bruins was insane. Marc Savard was even the first to jump in that night.
That is what we got last night. Right from the drop of the puck. The B's weren't perfect, but no team is. Bergeron got a shorthanded goal. Ryder scored a power play goal. Thornton scored twice and was in everyone's face all night. Tim Thomas was…. well, Tim Thomas. If you look up hard work in the dictionary, you see pictures of Shawn Thornton and Tim Thomas.
The Bruins have had trouble keeping this kind of emotion from game to game, but we're not even going to talk about that right now. Last night's game was fun for children of all ages.
Bergeron opened the scoring with a shorthanded goal.
He schooled Pavelec so hard that he fainted.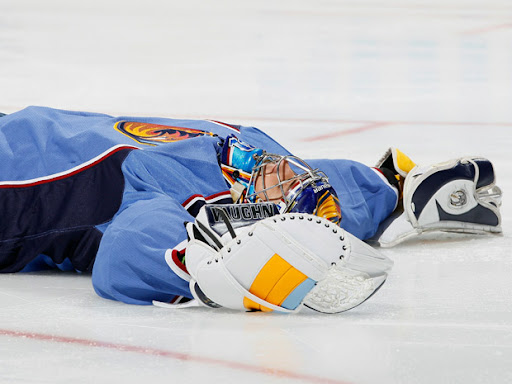 Bruins got their all important first goal. Every time Thornton stepped on the ice you saw how engaged he was. The crowd was buzzing. Despite recent letdowns, it seemed like no one in the crowd thought the Bruins had any chance of losing this game, even though Atlanta is good.
Early in the second Boston went on the powerplay. The effort had been there on the powerplay all night. B's just aren't really that good with a man advantage yet. Then Ryder stepped it. Locked his eyes on a corner and placed a shot so Pavelec couldn't get it. 2-0 Bruins.
Less than a minute later, Shawn Thornton stepped up. Again. McQuaid fed Thornton and he sniped Pavelec. Thornton made that shit look pedestrian.
Dustin Byfuglien would score after some sloppy play in the Bruins end to bring the Thrashers within two, but no one was concerned.
The third period started and Thomas had the net locked down tighter than your date on prom night. But Thornton wanted to put the nail in the coffin. And he did. After barely missing out on a second goal earlier in the game, Thornton made sure this one got buried. 4-1 B's.
Towards the end of the period, things got ugly. Some douche on the Thrashers named Meyer put his elbow up and landed a hit on Lucic. Lucic sprang back up from the ice spewing vemon. But Ference had already jumped in, understandably upset at the cheapshot. A brawl ensued. The fans went nuts. This was the emotion the Bruins needed. This was their "Dallas" game.
Lucic returned Meye's cheap shot with one of his own, punching Meyer in the face when his arms were down. He was immediately ejected and forced to the lockerroom by the refs as he challenged the Thrashers bench. Listening to Jack Edwards go nuts just made this brawl even better.
Ference fought. Horton fought. Marc freaking Savard fought. Boston had finally had enough. And it was glorious.
"This is a suicide pact for Little, because if he damages Savard he's just going to get killed!" ~ Jack Edwards
Some loser Islanders fan chimed in. What an idiot.
Maybe he was watching a different video, but Meyer clearly led with the elbow. Not saying Lucic's shot was cool either. They were both in the wrong. Dude must just be mad because the Islanders suck so much.
Lucic received a match penalty as Horton, Ference and Savard joined him in the lockerroom.
After things got sorted out, the crowd wanted nothing but Thornton. They wanted to see him get the hat trick and boy did he want it. The emotion from the brawl had the crowd, the players and even the hot dog vendors in a frenzy. Then the chants began.
He came thiiiiiiiiiiiiiiiis close to the hatty. But posts are a cruel mistress. But his work was done. Boston won 4-1 and they can thank their unsung hero and the night's hands down MVP. Shawn. Wayne. Thornton.
Bruins meet the Thrashers again in a week. Time to Go.