The Bruins went into St. Louis and actually showed up. The first period had me feeling like I was tripping on mushrooms because it seemed like a fantasy. The Bruins came out playing hard, scoring goals, getting into fights and opening a 30 rack of whoop ass. It was refreshing to see this team play up to it's capabilities for once. It felt like a November game last night.

What is shocking (and not shocking at all) is that the Bruins completely shit all over everything I talked about in the preview. They made Brian Elliot look like a sub-standard goaltender after I ranted and raved about how good he was. This usually happens when it comes to the B's though. I remember writing about Milan Whocic and what happens? He woke up and scored a bajillion goals, making me look like a piece of shit in the process. The fucked thing is that I am completely okay when something like this happens.
Last night saw the Bruins LOD line finally wake up, which is important because they've been the Bruins most consistent line all season. Before last night's game there were only three players who were not negative in the plus/minus category for the month of February. They were Patrice Bergeron, Josh Hennessy and Andrew Ference, who were all at zero. Last night there were only four skaters who posted a negative in the plus/minus category and three of them were the fourth line, which is expected. Normally fourth line players will get these type of numbers on the road because the home team has last change and will match up their top line with the fourth. The other skater was Andrew Ference, who posted a -1.
Enjoy this Adam McQuaid/BJ Crombeen fight before we finish off the recap.

Finish it off, bone daddy...

Brian Elliot's mask. I'm not one to normally gush about goaltender's masks unless it's a big event like The Winter Classic, but holy shit does Brian Elliot have an amazing mask. If you didn't see it last night, it is mother fucking Casey Jones from the Teenage Mutant Ninja Turtles.

This isn't the first time that Elliot has used Casey Jones too, which makes me think he's a rad dude. He also used a variation of Jones in Ottawa.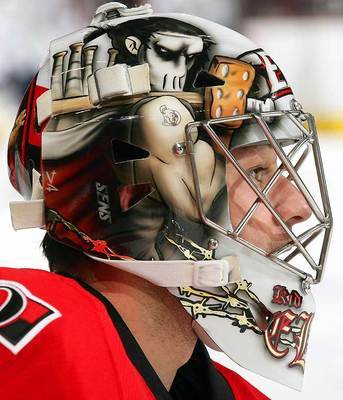 What a fucking BAMF.
The Legion of Doom line. A lot of people aren't down with calling these guys the Legion of Doom line because there already was one. Well guess what, no one gives a shit about the old LOD. There's a new Legion of Doom in the NHL and it's the second line for the Boston Bruins. Brad Marchand, Patrice Bergeron and Tyler Seguin were on point last night. Marchand virtually opened the game with a goal less than three minutes into the game.



That first goal goes to show what can happen when you capitalize on turnovers. Marchand made a nice move on the puck, was able to garner a takeaway and scored. Capitalizing on opportunities is the name of the game. Are you ready for a boner?



I will give you a few minutes to get a towel and clean yourself up. It goes to show you just how good the Legion of Doom line is. Seguin's outlet pass to a streaking Marchand and then Marchand using his version of Bergeron's "magic hands" (right Jack?) to put the puck past Elliot. Jesus Christ. Just watch it, although I can't be held accountable if you spooge at work. It's god damn hockey porn.

"New" first line. They were clicking last night, plain and simple. Chris Kelly centering between Milan Lucic and David Krejci really looked to make a difference. I'm not particularly fond of having Krejci in the RW position, but if this is what is going to become of it then let it happen. Krejci looked particularly good last night after looking particularly bad for weeks now. He was a team worst -8 before last night's game in February and the guy couldn't throw a hockey puck in the ocean. Last night, though, that line looked really good.
It started early in the game when Lucic set-up Kelly with an amazing chance that Elliot was able to squeak a pad save on. From that point on, the boys were able to throw their weight around and put pucks on the net. Kelly's goal was a thing of beauty, set up by Lucic.

It's crucial for this team to get that first line on a roll with Peverley out for a couple more weeks and Horton out for who knows how long.
Physicality. Oh shit, the bWo was back in a big way last night. I'm not saying that they're back from this point on, but I'll take it for one game. The Bruins were going into corners, they were fighting for pucks and they were laying the boom bash on some unsuspecting Blues players. They were…playing hockey? It was definitely different from the previous 9 games where Boston went 3-9 (and two of those wins were in the shootout). It was good to see.

Nothing. The Bruins played really well last night. I can't fault them for going 0/1 on the power play, just like I can't applaud them for going 1/1 on the penalty kill. Not a huge sample.

– Are there any teams that can get to the choppah before the Predator snipes their faces off?

– Is the bWo back or are they just teasing us?
– Is Tuukka Rask ever going to play again or is he just going to laugh it up on the bench?

– Did you buy your bWo shirt yet?