Right before the the playoffs started Wysh over at PuckDaddy asked us to to the Bruins Eulogy should it come to it. Apparently no one else wanted to roast Boston and since PPP was up for roasting the Leafs we got tapped to gibe the Bruins a good razzing or two. Of course, we obliged. You can read the Bruins Eulogy over at PD here.
But that wasn't the original post. You see, about midway throught he third period with the Bruins down 4-1 to the Toronto Maple Leafs in Game 7 we thought all was lost. Yep. Call us shitty fans if you want but the way the team was playing it looked like they were gonna be golfing in May. So we started the Eulogy. Then Boston made it 4-2 and we were like "Meh, too little, too late." And then it was 4-3 and we were all like "Stop teasing us, Boston." And then they tied it up… and then won it.
We were stoked. We were elated.
We also had to scrap an hour of eulogy work.
Totally worth it.
Thankfully, Google is awesome and we were able to find the original Eulogy from the graveyard. This isn't completed, obviously, but you'll get a good idea of where things were headed.
Enjoy.
Thank you all for coming on such a short notice. Normally we have our eulogies in the Days of Y'Orr HQ cafeteria, but like the rest of the NHL, Jeremy Jacobs has decided to lock us out of our building. We're not sure what his issue is, but there was a note that said "We don't want the type of people a Puck Daddy eulogy brings in." Despite this quick change of venue, we're excited that you all were able to find the correct Dunkin Donuts parking lot to congregate in and not the other 499 in the city.
We gather today to say goodbye to the 2013 Boston Bruins. We hope you enjoy this goodbye, because unlike the team we put in the ground, we put a lot of heart into this. You see, we are fans of the Boston Bruins – despite what many think because our black and gold glasses were turned in when we hit the age of 7.
The season finally began in January 2013 because Jeremy Jacobs was too busy diving into and swimming about his coin vault in Jacobsville to pay attention to anything going on in Boston. To his credit, he gave free food vouchers to fans in January but in fine Jacobs fashion he did it in a very Jacobs fashion:
Yes, as a thank you for coming back (also see: still paying for season tickets) Jeremy Jacobs gave us Tyrion Lannister sized food. We were going to ask for a "Make Whole" provision but this pizza wouldn't taste good in 113 days later.
(insert something about January to March)
Then the end of March happened when everything seemed to turn south for the Bruins. Peter Chiarelli was beat out for Brenden Morrow by Ray Shero and whatever black magic he holds over the Dallas organization. We are pretty sure that the new logo the Stars are going to show off next season is just Ray Shero's face, laughing.
Then it happened. Every major media outlet believed that Peter Chiarelli had acquired the best available player in the NHL trade market. The Bruins were getting Jarome Iginla. Aaron Ward was breaking news quicker than Scott Walker broke his face.
We ran out into the streets and partied like it was 1999. We dressed up as Native Americans and dropped tea into the Boston Harbor, then grabbed harpoon guns and killed whatever the tea bags mutated into because of the toxic waste living at the bottom of said harbor.
We went to bed believing that Iginla was a Bruins and our dreams were amazing.
Then we woke up.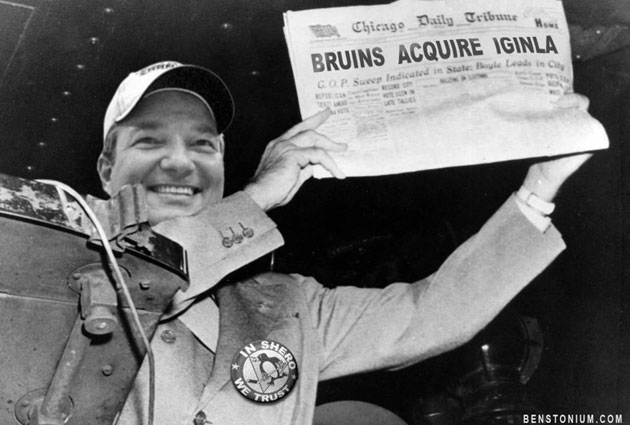 Overnight, Ray Shero flew the Batplane out to Calgary and scooped up Jarome Iginla while Claude Julien and Peter Chiarelli were playing legos underneath a lamp in Claude's house. That's a lie.
Ray Shero didn't do anything. Peter Chiarelli was on the phone and probably said "Oh hey Jarome, we have a spot for you right here with Chris Kelly and Rich Peverley" and once Jarome was done violently throwing up he called Shero for help.
So Chiarelli couldn't close on two former NHL captains, which is an amazing microcosm for how this season ended. The Bruins can't close.
Ultimately, Chiarelli swallowed his pride and stole Jaromir Jagr from Dallas for a conditional pick (now definitely a second round pick) Lane MacDermid and some kid. We were happy, but it was obvious that Chiarelli had to make a big move to cover his ass from the Iginla fiasco.
The Tin Man had more heart than the Bruins in the second half of the season.
We'd like to thank Andrew Ference for his play this season. With our "Trees For Horrible Play" program, we're sure that in 20-25 years Boston Common is going to look like a Brazilian rain forest.
We'd like to thank Milan Lucic for scoring 7 goals this season, despite being the only NHL player in history to have a newborn during the season. We've seen better consistency in his newborn's poo.
We'd like to thank Nathan Horton for his service this season, but much like his play in the month of March, we can't find him.
We'd like to thank head coach Claude Julien for hitting the bottle at the end of the season and putting Jaromir Jagr on a line with Rich Peverley and Chris Kelly. Because when you have one of the most talented goal scorers of all time on your team you want to stick him with two stiffs who couldn't score on nickel-night at an Amsterdam brothel.
We'd like to thank Tyler Seguin for wasting all of his goals in Sweden. He cleaned more dishes then he scored playoff goals. Seriously, take that flaming helmet and use it when you're riding your trike down Newbury St.
If anyone has seen Tyler Seguin or Brad Marchand please tell them that we love them and we miss them. They've been missing since March.
The Bruins wouldn't know a full 60-minute effort was if Mike Wallace came up to them and smacked them in the face.
The Bruins short playoff run was a perfect review of their season — a nice start only to be a huge letdown for the last half of the year.
Jeremy Jacobs is such a goddamn mizer that he wouldn't let the Bruins put in more than a 10 minute effort each night in fear of running down his property and decreasing its value… or something.
…and that's as far as we got…