Get used to seeing another team's arena for the next two weeks. Boston has 7 games left and 5 of those will be on the road, including a back-to-back tonight in Detroit and tomorrow in Toronto. I would worry about this, but with 7 games left there's no point. I'm the same dolt who wrote about March being a tough schedule for Boston and they only managed to go 15-1-1 so it's clear that I don't know what the fuck I'm talking about anymore.
I just love #shittynarratives!
Yeah.
However the last time Boston was in Detroit, the Red Wings dipped their red ball sack into the Bruins' mouths. Sure, it was back in November but it was still a 6-1 whooping. A fucking beating that was so savage the LAPD plays it as one of their training videos.
But everything is different now. The Bruins are rolling and Detroit is teetering in that first wild card spot. Columbus (83 points), Toronto (82), Washington (81) and New Jersey (80) all have a shot to overtake Detroit's 84 points if Detroit falters. If New Jersey knew what the fuck they were doing and stopped trying to suck Marty Brodeur's saggy old man balls and actually played Corey Schneider more, they'd probably have a secure playoff spot. That has to be infuriating for Devils fans.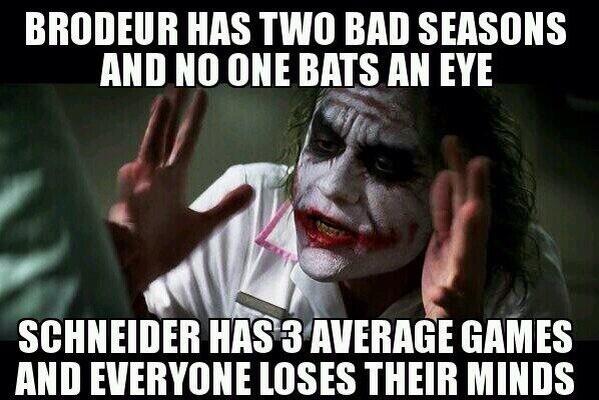 But hey, I don't have that problem. I'm watching a team currently roll through bodies in the last 31 days.
---
Wild Card Watch
If the playoff ended today the Bruins would be matched up against Columbus in the first round of the playoffs. Here's what the Wild Card race looks like as of today:
For those unaware of how the wild card works:
The top three teams from each division makes the playoffs. Using the Atlantic as an example: Boston, Montreal and Tampa Bay will make the playoffs. Montreal and Tampa will meet in the first round. Due to Boston being the higher of the two seeds between the Atlantic Division winner and the Metro Division winner, the Bruins will play the second wild card. Pittsburgh plays the first wild card winner. It doesn't matter what division the wild card is in, meaning Atlantic doesn't have to play Atlantic when it comes to division winners vs wild card teams.
---
Projected Lines
I believe that Chad Johnson starts tonight. I have no inside knowledge of any of this, but when I took at Rask's career numbers vs Detroit, they make me want to throw up. Rask is 1-3-1 in 5 games played with a 3.60 GAA and a .870 SV%.
Milan Lucic – David Krejci – Jarome Iginla
Brad Marchand – Patrice Bergeron – Reilly Smith
Chris Kelly – Carl Söderberg – Loui Eriksson
Shawn Thornton – Greg Campbell – Dan Paille
Dougie Hamilton – Zdeno Chara
Andrej Meszaros – Johnny Boychuk
Torey Krug – Kevan Miller
Chad Johnson
---
Media
Puck Drop: 8:00pm EST
TV: NBCSN
Radio: 98.5 The Sports Hub
ONLINE FEEDS: HERE
---
Know the Enemy
---
Gameday Image/Video
John Whitesides gets The Bear into shape.