I don't know about you guys, but the last five games of the regular season always seems like a grind to me. Such as the case this year, Boston usually ends April in a good position in the Eastern Conference and these games are just being played for funsies. Yeah I said funsies, big whoop wanna fight about it?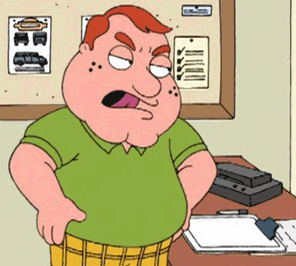 That is such a weird looking gif because I can't make out what the guy is saying, but it is doing the job. Much like the Bruins are doing their job by finishing this season out and hopefully staying healthy while doing it. To be honest with you, the outcome of these next four games means absolutely nothing to me. If the Bruins lose four in a row, I'm not going to be standing on the mountain top screaming that the peaked too early. If they win four in a row, I'm not going to be standing on the same mountain top declaring how the Bruins will teabag every opponent en route to a Stanley Cup.
These four games don't mean shit. The only good that will come out of these games is potential morale boosts (sup, Loui?) and Claude gets to play with line combinations/pairings in the event of an injury. Other than that, what's the point?
President's Trophy? Please. I want nothing to do with the President's Trophy. It's the Washington Capitals of trophies – all flash, zero meaning. If you win the President's Trophy and then lose in the first or second round of the playoffs what's the point? All you did was be the best regular season team to shit the bed in the playoffs. You, essentially, become the 2008-2009 San Jose Sharks or the 2009-2010 Washington Capitals or the 2010-2011 Vancouver Canucks. Three recent President's Trophy winners who were bounced in round 1.
And the banner. If there's a banner raising event for a President's Trophy – I'll blow my brains out.
The history of the President's Trophy, especially lately, is murky at best. I want nothing to do with it. It's a curse I tell you! A pox upon whichever house claims it as it's own and I want nothing to do with it! I SAY GOOD DAY TO YOU, PRESIDENT'S TROPHY!
Can someone please find Reilly Smith. After a hot start, he's been a ghost in the goal column. You can make the case that he does THE LITTLE THINGS and has INTANGIBLES but if we're going to dump all over Seguin for having – basically – the same stats as Smith last season? It's probably unfair for me to compare the two, but it's hard no to considering a different player comes in and puts up relatively the same stats with the same linemates.
I'm not really looking for an argument either. If you look at usage charts for Seguin/Smith, they're relatively the same. This means that Bergeron/Marchand and Claude's system is so good that almost anyone can be plugged in there and they'll be useful. It's more a testament to what Patrice and Nose can bring every night and how consistent they are.
Oh and I said almost anyone:
Okay, let's wrap this bitch up.
---
Wild Card Watch
New Jersey lost last night, decreasing their chances to make the playoffs. Everything looks the same as it did yesterday in terms of points.
Detroit, Columbus, Toronto and Washington all play tonight so the Wild Card picture could definitely change – especially with a Columbus win and a Detroit loss. I want Detroit to win out and stay in that first Wild Card spot. Like I said in yesterday's Wild Card Watch post, let them and Pittsburgh kill each other.
---
Projected Lines
No fucking idea what Claude is going to do with these lines. Jarome Iginla and Kevan Miller missed practice yesterday which leads me to believe they won't play today. If anything changes, we'll update. I'm going to stick with Saturday's lines.
Milan Lucic – David Krejci – Loui Eriksson
Brad Marchand – Patrice Bergeron – Reilly Smith's Ghost
Chris Kelly – Carl Söderberg – Jordan Caron
Shawn Thornton – Greg Campbell – Dan Paille
Dougie Hamilton – Zdeno Chara
Matt Bartkowski – Johnny Boychuk
Andrej Meszaros – Torey Krug
Tuukka Rask
---
Media
Puck Drop: 8pm EST
TV: NESN
Radio: 98.5 The Sports Hub
ONLINE STREAMS HERE 
---
Know the Enemy
---
Gameday Image/Video
Marshall put this nightmare fuel together.