With Boston clinching the number one seed in the Eastern Conference on Saturday, "Wild Card Watch" is officially on. We now know that Boston will play whoever takes over that second wild card spot. Here's a look at the Eastern Conference wild card after Sunday's games.
While it looks like Detroit has that top wild card spot locked in, until something is set in stone I am not going to count them out of dropping down to the seconds – which terrifies me because I don't want Boston to play them in round 1. I'd much rather have Pittsburgh and Detroit beat one another up.
Every team listed, with the exception of Toronto, has four games left. Here's how their schedules look:
Detroit Red Wings
4/8 at Buffalo
4/9 at Pittsburgh
4/11 vs Carolina
4/13 at St. Louis
Record vs. Boston this season: 3-1-0
Opponent Winning Percentage: 50.1%
Home Record: 18-12-10
Road Record: 19-15-4
Outlook: With Pittsburgh not playing like themselves, I can see Detroit getting points in 3 out of the 4 games. They still need to fend off Columbus and New Jersey. I expect Detroit to end up in the first wild card spot and to battle Pittsburgh in the first round. With Alfredsson and Datsyuk just returning from injury, Detroit waits for Zetterberg to come back to get to full health.
I don't think you can really count these guys out, especially given how well they've played the top teams in the Eastern Conference this year. One could chalk this season up as an injury-riddled mess for the Wings and I don't think many people out there would argue with you.
Detroit, despite their injuries, are 13th in the NHL in corsi for percent and boast a power play in the top half of the league. I don't think you can count the Wings out and I fully expect them to lock up that first spot.
---
Columbus Blue Jackets
Schedule:
4/8 vs Phoenix
4/9 at Dallas
4/11 at Tampa Bay
4/12 at Florida
Record vs Boston this season: 0-2-1
Opponent Winning Percentage: 46%
Home Record: 21-15-4
Road Record: 19-16-3
Outlook: Out of the Detroit, New Jersey and themselves – Columbus may have the hardest schedule. If you want to base this on winning percent you can, but Columbus faces two top 15 teams that have a higher fenwick for % in Dallas and Tampa. They two teams that are battling one another to land in that last wild card spot out west [Dallas at 87 points; Phoenix at 86]. They also play a locked in playoff team against Tampa. The upside here is that there could be relief in their Florida trip. It is entirely possible that based on the standings by then Tampa could rest some key guys (Stamkos, Bishop).
Here's the thing – I think Columbus falls out of that last spot and is overtaken by New Jersey. Say what you want about the Devils but they are getting scoring and Corey Schneider has shown he can be a good goaltender. In fact if the Devils removed their heads from their brown eyes and stopped playing Marty Brodeur, who clearly doesn't have it anymore, they'd be a playoff team already.
---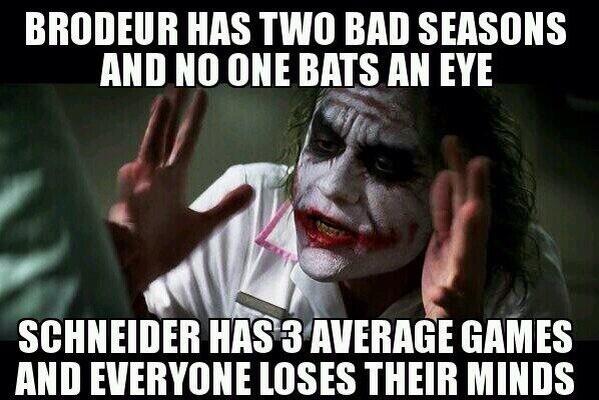 New Jersey Devils
Schedule: 
4/7 vs Calgary
4/10 at Ottawa
4/11 vs New York Islanders
4/13 vs Boston
Record vs Boston This Season: 1-1
Opponent Winning Percent: 48%
Home Record: 20-10-8
Road Record: 14-18-8
Outlook: Okay, I've already stated I think New Jersey can overtake Columbus. Their schedule is soft and the only reason their opponent winning percent is so high is because they end the season against the best team (record wise) in the NHL. For my prediction to come true, though, New Jersey would have to realize that Marty Brodeur isn't useful on the ice anymore. That probably won't happen and I'm pretty sure he's going to start the last game of the season (which happens to be at home for New Jersey) whether New Jersey is in the hunt or not.
Their schedule is fucking easy too man. Ottawa, Islanders and Calgary are cream puffs. When Ottawa is the best out of that group (sans Boston, obviously) – you know your road isn't going to be rough. Given that New Jersey is one of the best possession teams in the NHL (6th overall in corsi for percent) I believe they could run the table on those three schmucks. Hell Boston may not even give a shit that last game and rest Chara and/or Rask and/or Bergeron. You never know. New Jersey's problem lies in the shootout where they are 0-11. Yeah, you read that right. 0-11. So there's an extra 11 points left on the table.
Lastly we come to Toronto and Washington – two dregs of the NHL. Both teams have less than a two percent chance of making the playoffs so I'm not going to waste my time.
https://twitter.com/FredPoulin98/status/453162642312822785
With that said, if you're asking me who I want in the first round it is without a doubt the Blue Jackets. While Bobrovski could steal a game or two, Boston matches up better against Columbus than either New Jersey or Detroit.