Here we go ladies and fellas. Bruins could close out the sweep against the Rangers tonight with a win. Lots of pressure on NY to pull a rabbit out of their asses.
It'll also be nice to see the Bruins close this series out. Get the sweep and heal up your bodies because it's looking like a Bruins-Pens finals and that will be a bruister of a conference finals and not just because we'd have to listen to NBC suck Crosby's dick the entire time. Speaking of the Pens, they scored 7 goals last night by David Krejci is still leading the post-season point totals.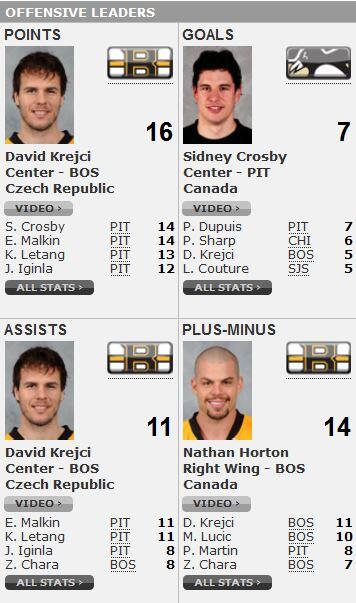 But let's not get ahead of ourselves quite yet. We shouldn't expect the Rangers to go away quietly. They'll be desperate and they'll be firing on all cylinders all game. Best thing the Bruins can do is score early. Get a few goals in the first and really turn the heat on Lundqvist and the Rangers. Force them to make stupid passes and capitalize.
Johnny Boychuk continues to be a post-season beast for the Bruins. Fun fact: has more goals these playoffs than Tyler Seguin, Rick Nash, Jaromir Jagr, Brad Richards, Anze Kopitar & Corey Perry combined. Holy smokes.
We're also expecting the Merlot Line to continue to be awesome. Some people like to shit on them 'cause they're not high power goal scorers but that line gives all they have every shift. They bang bodies and dig hard in the corners for the puck. They might not score a ton but they're a big reason why the Bruins will get momentum and score a shift or two later.
They've been all over the Rangers and NY has no idea what to do.
More after the jump…
Bruins' Projected Lines
Milan Lucic – David Krejci – Nathan Horton
Brad Marchand – Patrice Bergeron – Tyler Seguin
Rich Peverley – Chris Kelly – Jaromir Jagr
Shawn Thornton – Greg Campbell – Dan Paille
Zdeno Chara – Dennis Seidenberg (????????????)
Johnny Boychuk – Matt Bartkowski
Adam McQuaid – Torey Krug
Tuukka Rask
Anton Khudobin
---
Media
TV: NBCSN, RDS, TSN, CNBC: 795 (Comcast HD), 355 (DirectTV), 208 (DISH Network), 310 (RCN Boston), 602 (FIOS HD)
Radio: 98.5 The Sports Hub
Online Feeds: HERE
---
DOY Flying Bear T-Shirt
---
Game Day Video/Image
Get your brooms out. Or balls out… whatever.