BOS LEADS  SERIES 2-1.
Can we stop with the Marchand bullshit? I feel like there needs to be a hockey clinic on the difference between diving and embellishing. Can they mean the same thing? No, they can't but they can be used in the same sentence. Point:
PK Subban is diving and embellishing to get calls out there.
What Marchand did on Tuesday isn't a dive. It is embellishing. This is diving:

Embellishing is playing up something to get a call and it doesn't necessarily mean diving. Anyways, it irritates me how often people these two mixed up. Then again, that's my weird fucking OCD-ness. Do I think Marchand was embellishing a little? Yeah I do, but looking at his gif, you can see that he tweaked his other knee which was why he grabbed it.
But hey it is Brad Marchand so everyone, myself included, goes right to the faking/embellishing/diving/rat bullshit. That's what happens when you have a rat reputation. People refuse to give you the benefit of the doubt. Then you have those fucking retards to the north in blu, blanc and rouge who immediately want to string the guy up on Saint Catherine St. and throw dirty stripper thongs at him. The same fucking people who boo with a Canadiens hits the ice and fucking booed Steve Stamkos when he left the ice after getting kneed in the fucking head (and no penalty call).
Yeah, no fucking penalty, which is definitely something that's been going on up there in Montreal.
Oh right, the Bruins are playing Detroit. Should Boston advance (notice how I said should and not when because the series is far from over) there will be enough Montreal vitriol for all of us – trust me on that. That's another thing – the Bruins dominated the Red Wings for the second straight game and people immediately equate that to the series being over.
You realize that one flick on Datsyuk's wrist and this series could be tied at 2-2 after tonight?
No, you don't because your black and yellow glasses are permanently attached to your face until the Red Sox start playing meaningful games and then you're all like WOO DAVID ORTIZ and what's hawjkey?! You know a series is over? When a team wins 4 fucking games.
Speaking of fucking people, Zetterberg might be suiting up tonight.
Here's the thing, is Zetterberg really healthy or is this a rush job because Detroit is scared about going down 3-1 and coming back to Boston? For what it is worth, I'd say it is the latter. The dude had back surgery two fucking months ago. In fact, this is what I posted on April 15th:
"We were shooting for round two, and that's still the plan," he said.
So suddenly shooting for the second round means the second week? I haven't seen a rush job like this since Joel Schumacher's abortion known as "Batman and Robin".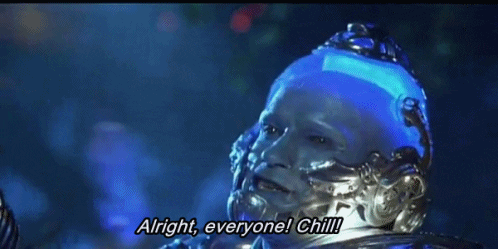 Oh god the puns. THE PUNS.
I mean if you're not worried about the long term health of your captain then fine, throw him out there. Personally if Zetterberg fucks up his back even more and can't play again – I don't care. It's not my body, mine has enough issues with it. He'll probably just play powerplay minutes, which means Detroit will have at least five of them. Bank on that.
---
Media
Okay so I've read some people are having issues with this. Here's easy step by step instructions.
1. Download VLC
3. Click the bear. Feels good doesn't it baby? Oh yeah.
4. Click on any X's you see and your stream will load. Don't click on any ads.
5. Enjoy.
Click the image and bookmark the page.
Puck Drop: 7:30pm EST
TV: NESN
Radio: 98.5 The Sports Hub
---
Projected Lines
Dan Paille participated in an optional skate yesterday but was wearing a green jersey. I'm not sure if he's going to play tonight or not but I'm going to keep the lines the same as Tuesday's game.
Milan Lucic – David Krejci – Jarome Iginla
Brad Marchand – Patrice Bergeron – Reilly Smith
Justin Florek – Carl Soderberg – Loui Eriksson
Shawn Thornton – Greg Campbell – Jordan Caron
Dougie Hamilton – Zdeno Chara
Matt Bartkowski – Johnny Boychuk
Kevan Miller – Torey Krug
Tuukka Rask
---
Know The Enemy
---
Gameday Image/Video
Nice shot of Marchand putting one past Howard.