Welcome one and all to the second annual "Pez Plays Armchair GM", which is one of my favorite posts to write. I'm not even going to preface anything, lets just get into it.
Note: Capgeek does not count the Iginla bonus against the Bruins cap. To counteract this, I subtracted the $4.2M that Iginla earned from the current $71,100,000 salary cap. This leaves Boston with a current salary cap of $66,900,000 to work with. 
Cap Space: $66,900,000
---
LTIR: Marc Savard for $4,027,143
Updated Cap Space: $8,947,500
---
Compliance Buy-outs:
During the ordinary-course buyout periods in June 2013 and June 2014, teams will be permitted two compliance buyouts (also referred to as amnesty buyouts) in total. Compliance buyouts follow the same formula as ordinary-course buyouts — either 1/3 or 2/3 of actual salary depending on age — for actual cash paid to the player, but they do not count against the cap. Per Transition Rule 53, a compliance buyout can only be executed on a contract entered into on or before Sept. 15, 2012.
Chris Kelly* for $3,000,000
Gregory Campbell for 1,600,000
Reasoning: Neither of these guys bring anything to the table you can't find somewhere else. Don't give me this shit about grit and toughness and character and point me to Gregory Campbell blocking a shot two years ago. I don't care. You don't put a team together based on sentiment and hurting someone's feelings. Sorry boys, good luck somewhere else.
Updated Cap Space: $13,547,500
*In this scenario, Chris Kelly is healthy.
---
Now that we know where our cap situation is at, it is time to look at the restricted free agents first.
Bruins restricted free agents: 
For this post, I am only going to be talking about guys I would be signing to the Boston Bruins, not the Providence Bruins so some guys (Cross, Cunningham, etc) won't be mentioned.
When you look at the Bruins restricted free agents, there's a few guys who stand out as people that need to come back. Most notable from that list are Torey Krug and Reilly Smith, two guys who produced at a high level offensively for the Bruins.
Torey Krug: $2M per year
Reilly Smith: $3M per year
Matt Fraser: $1.25M per year
Justin Florek: $1M per year
Dave Warsofsky: 660K per year
These are the players from that list that I bring to back in the NHL.
Current Cap Space: $6,297,500
---
Unrestricted Free Agents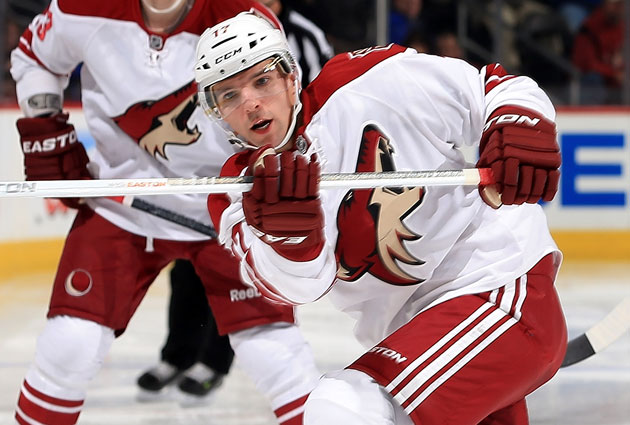 I know everyone is on the Iginla hype train, but my guy is 33 year old Radim Vrbata from Phoenix. Vrbata has 20 goals and 31 assists in 80 games this season for the Coyotes – a team that missed the Western Conference playoffs by two points. Vrbata also spent most of his time with center Martin Hanzal and a mixture of Shane Doan/Lauri Korpikoski/Tim Kennedy at the left wing. This leads to believe that the massive upgrade that is David Krejci and Milan Lucic would greatly benefit Vrbata.
Vrbata would be looking to get more than the $3M he received from Phoenix last season and I feel that $4.5M would be right in his wheelhouse.
I'm not ready for Niklas Svedberg. After a fantastic year in 2012-2013, Svedberg regressed a little in 2013-2014. I think one more year of seasoning at the AHL would be perfect for the kid. With that said, Chad Johnson played wonderfully for the Bruins in the backup role. He'd be the perfect candidate to do it again and see if he can maintain the consistency he showed last year.
Johnson would be a jump from his 600K salary to 750K a year. I don't think Florida would ever let him leave, but I would love for the Bruins to grab Tom Gilbert. He's a decent sized kid (well, 31 years old) at 6'2″, 206 and his offensive ability is above average. While he's not great in his defensive zone, he's better than Krug where he could slot perfectly in the #4 spot. The hope is that a guy like Gilbert could sign here for $2M.
That is it for Unrestricted Free Agents. You don't need to go out and break the bank, just fill a need.
Updated Cap Space: $-1,112,500
---
Call Ups
With the first three lines virtually set, it is time ti fill out the fourth line. I think it is time for the Bruins to get quicker down there instead of a grind em out line. An "energy line" doesn't need to be full of grinders and enforcers – they just need to provide a spark. You can do that with offense. So I'm calling up Ryan Spooner and Alexander Khoklachev because unlike Chiarelli – I'm done trying to trade the fucking kid.
Updated Cap Space: $-3,159,167
---
Trades
Rut-row. It is clear that there's a log jam at defense. This is where things get dicey because you never know how trades will work out. If I'm looking around at other teams who may be in potential need of defenseman, my first look is at Edmonton. Edmonton currently has three defenseman (three!) signed for 2014-2015 and have over $26M in cap space.
To Edmonton: Johnny Boychuk
To Boston: 2014 4th round picks (#91 [acquired from Minnesota] and #111 [acquired from San Jose]). 2015 2nd round pick
Reasoning: Edmonton is not going to trade a first round pick for Johnny Boychuk so we can probably squash that notion right now. They especially won't trade the #3 overall pick for him. After that the Oilers don't own another pick until 91 and then 111. Acquiring draft picks and not a player in return allows Boston to get rid of Boychuk's cap hit while potentially stocking a dwindling farm system. Plus if Edmonton sucks again, that 2015 2nd round pick could look fantastic to another team if Boston doesn't want it.
To Colorado: Adam McQuaid
To Boston: 2014 7th round pick (#204)
Reasoning: Pure salary dump for Boston. Colorado acquires a guy who could fit nicely in their third pairing and won't break the bank as Colorado sits with over $25M in cap space available.
Updated Cap Space: $1,774,167
---
Please bash away.